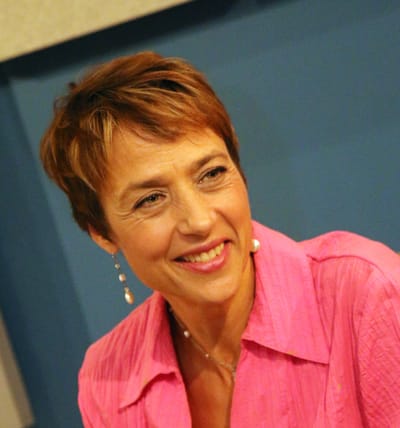 During my entire journalism career, I had this reminder on a post-it note hanging at my desk:

It's about people and their stories.

I love hearing stories, reflecting on them, exploring them. What motivates you? Why do you do what you do? Where have you come from, and where do you hope to go? Every single day, I bring an ethic of curiosity and respect to my work.

I began my career in public media at the National Public Radio affiliate WAMU, in Washington, D.C.; then became a newscaster and freelance reporter at NPR. My long-held desire to host my own talk show along with a love of the outdoors drew me back to my home state of New Hampshire. In the mid-1990s, I became the founding host of New Hampshire Public Radio's live, daily news and public affairs call-in show The Exchange. For 25 years, The Exchange was the state's most widely recognized and respected radio program. At both the state and national level, it was repeatedly cited for intelligence, depth, and civility. Over the years, I met so many inspiring, wonderful people; including dozens of Presidential candidates given New Hampshire's early place in the nomination calendar.

After 25 years however, it was time for something new. In June of 2021, I stepped down. But as you'll see in my services listed, I have not "stepped aside." I continue to work on special projects with NHPR. I am speaking at events all over the state, from Dartmouth College to Leadership New Hampshire to UNH. I finished my first novel this fall and know my literary agent is out there, we just haven't met yet! I am also working at my local YMCA as a lifeguard and fitness instructor. Finally, I was thrilled recently to resume my role as narrator for the Capital Jazz Orchestra's annual Holiday Pops concert, which was cancelled in 2020.

I live in the beautiful northern New England city of Concord, New Hampshire. Getting outdoors and physical fitness are lifelong passions. So for me, New Hampshire is one giant playground: the hiking, biking, boating and swimming opportunities here are endless. That's why at the top of this page I've put a photo from the top of Mt. Osceola, in the southern White Mountains. (My headshot is by the fabulous Allegra Boverman).

Check out my Facebook, Instagram or LinkedIn for more updates and details. Please reach out to me via email if you'd like to work with me on an event, interview, or some other project. I'm especially interested in pursuing more narrations and voice-over work, which I did earlier in my career before the demands of hosting a daily show took over. Lastly, if you're a literary agent looking to take on a debut novelist with more than 2 decades experience of writing, reporting and public speaking, please be in touch.

I hope to hear from you. Thanks for visiting my site.